HighView Student Ministry carries the same missional focus as the rest of our church. We want to see students become deep disciples of Jesus Christ as we engage them with biblical, gospel-centered teaching, develop them as men and women of God in community, and deploy them to lead and serve in our church and in their world.
Service Times + Special Events
Beginning January 2021

HV Student Worship
1st and 3rd Sunday Nights of the month at 6:00 PM
At HighView Church

We will also have special events and discipleship gatherings on the off weeks. Stay tuned for announcements of special student Meet Ups.


Beginning in January, we will explore one of the greatest questions we can ask as believers, "Who has God made me to be?" We're excited to begin this series together.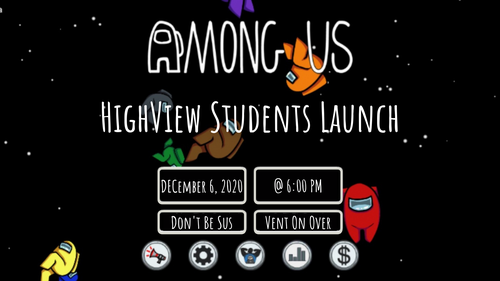 We're relaunching HighView Students this December 6th at 6 PM! Join us for worship and the word. As well as a Real Life game of Among Us.
Are you the Imposter? Don't be sus! See you there!